I have had my nose stuck in the first sample of a new pattern for the last few days. I'm designing it with the express purpose of ensuring I look classy as all hell at a wedding I'm attending this year, and what, I ask you, is more glam than a dove-grey shoulder shawl, designed and crocheted by the wearer?
I trust this will help "dress up" whatever slightly barmy and colourful dress I end up buying for the occasion. (My mother is always so polite about my choices, but I can tell she'd rather I just found a little black dress and stuck to it!)
I'm really pleased with this so far, actually. The lace trim is coming out nicely in a fan shape, the picots are looking plentiful and cheerful, and the main body, once blocked will be full of holes (intentional) and will look impressive with the right shawl pin added at the shoulder. I can't wait until I get it finished and blocked. The lace just unfolds to nicely!
But, what I don't have, yet, is a name. Usually at this stage, I have it pinned down (pun, unindented, but welcome), but this is e-luuuu-ding me something awful. I'm therefore hoping that you guys have more luck with the inspiration.
As a guide; references to poetry, places and people are all welcome. Something kinda grown-up without sounding boring, is what I'm in the market for. And, of course, the winner will recieve a copy of the finished pattern, including lots of gloriously clear charts, and a pick of one of my other patterns, too*.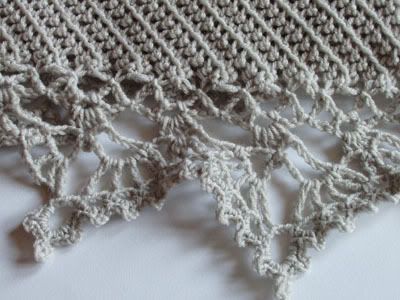 Competition will be open for one week, so tell all your friends!
*excluding those recently published in magazine-form. I don't have the rights to them back, yet...
Note: Enter as often as you like. Entries must be posted in reply to this blog post, so I can keep them all together.