Happy Monday, the soon-to-be-free crochet pattern takes on a new look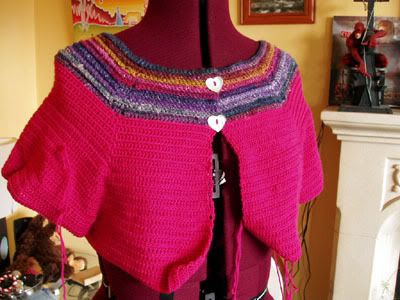 So, I have been experimenting with the top portion of Happy Monday, and I have it just the way I want it now! I had originally decided this should be a black top, with buttons all down the front, but then it dawned on me that black, while stylish, isn't a very happy colour, so out came the PINK! I had stashed away for just this kind of situation.
After ripping back the 30-or-so rows of black, I started to work up the same section in pink, got bored working so many fl-dcs and figured "If I'm bored, so will anyone who wants to make this". As crochet should not be an endurance sport, I switched tactics and introduced some trebles to the mix.
Now, I'm usually wary about making things in just treble stitch. It's lovely when it's being worked up, but the spaces between the stitches have a tendency to streeeeetch out after a bit of wear. They also stretch over the wider parts of the body, and most of the time, this is un-flatter-ing. So, I have used a neat trick to minimize this problem. (It is wonderfully easy, too)
So, right now, Happy Monday stands, almost half done, with pretty, slightly poofy sleeves, lots of fushia yarn, and two button holes.
And look at the buttons I found yesterday!!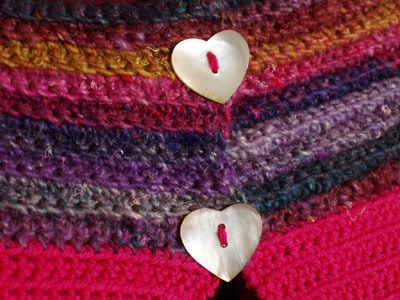 Aren't they just perfect? Little, pretty mother-of-pearl heart-shaped buttons totally set off the stripey
Noro
yarn, and compliment the bright pink of the Debbie Bliss
Rialto 4-ply
, too. I was worried I'd not find something that matched both so well. And the best thing?
Rubenesque
in the Powerscourt Centre sells them in packs of 4, so I have 2 more to play with! One down-side, a pack of 4 comes to about €6.
Wanna see where this all started?