So, last night, at a very fun Fibre Fun Friday, I brought along ONE ball of yarn and ONE hook, to ensure I got the glove I was working on for the book...done. Which, I did.
But, then, I got bored, and having exceptionally limited resources and unwilling to start begging off my fellow fibre fiends, I began wondering what I could do with the last of the yarn and the one hook. This is the result of a very productive 24 hours.
Tullow, named after the coldest spot in Ireland this year is a crochet sock which uses a handy bit of tunisian crochet to ensure a good fit early on in the sock-making process.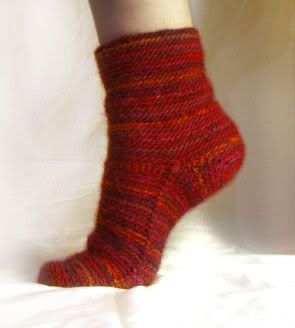 I have no idea if this is a technique which I have just invented, or if it's one that's already done the rounds in the crochet sock world, but one way or another, it's new to me, and I'm very pleased. My toes are pleased, too. I am totally converted to crochet socks.
Devoted!
Besotted!
They're warm, not nearly as bulky as I'd have imagined, stretchy and so... so fast. Super fast! 24 hrs fast! Surely that's the perfect cure for 2nd-sock-syndrome...
Tullow, as with all my patterns, is available on Ravelry
here
.