I finished a very large (well, large for me...) crochet project yesterday which will have to remain nameless for some time to come. Still, rest assured, I feel very proud of myself for finally getting over the hump it had created in my mood!
And now, with my back to it, I see I have a bit of catching up to do - namely in the area of things I have been doing - so, come with me as I rush through a few things, like a 12-year-old girl updating her long-ignored diary...
Fibre Fun Friday, the place to be if you're down with the tea-drinkin' set, has been going great. Apart from having a lovely band of regulars, we've also had people bring new people who in turn have started to learn to knit
in our midst
. So, well done novice-knitters for taking the plunge, and bravo experienced-knitters for not seeming intimidating.
I'm really enjoying being at The Tea Garden every fortnight, and find by the end of the second week I'm actually craving the coming of Friday when fancy tea and fancy fibre will satisfy me for another while. I'll know it's an addiction the day I can't wait and end up crocheting and drinking alone...
Just after Christmas we had a Yarn Swap, too. Everyone looking to join in brought, wrapped, some lovely yarns they'll just never use, and got to pick other packs out of the pile, ably (or may I say admirably) modeled by our lovely assistant, Eimear. Look at her arm-waving skills. This lady's a pro...
A few Sundays later, saw the first ever meet-up of the Sunday Spin-In group, in the Powerscourt Townhouse Shopping Centre, up on the 1st floor balcony. We'll be meeting on the last Sunday of every month, starting around half twelve, one-ish (I think...) and going on 'til we get tired.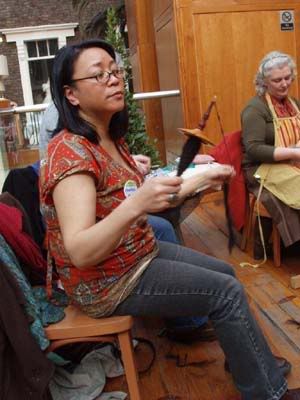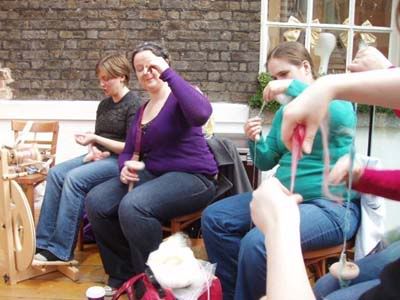 Again, I had a blast. Seeing all the other wheels whirring away, and watching all the expert spindlers work was truly a sight, and the number of people in shopping who screeched to a halt at the door to watch us was hilarious.
There were even prizes!
And last week, on a visit home, the ever-friendly, super-bouncy puppy, Ozzy, allowed me to take this non-blurry shot of him after he flopped down for a snooze on his cushion. He's gorgeous, guys. His ears are huge, his face is so expressive, and everyone who comes in the door gets an enormous welcome. He's the definition of a happy puppy.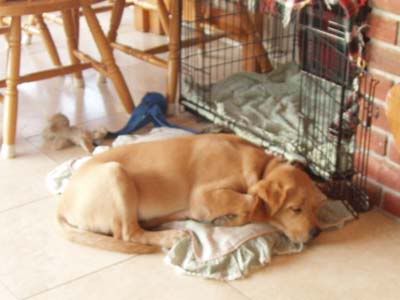 And why wouldn't you be, with such a comfy place to nap?