It's difficult to name a thing that will be with you, hopefully, forever. Honestly, I have no idea how I'll ever name a baby if it took this much effort, time and help to name my wheel!
But, it had to be done, and thank you to everyone for their great, mad and occasionally baffling suggestions!
It was funny; I was sitting beside Eimear at the FFF meeting a fortnight ago, and I was complaining, as usual, dramatically. Arms were waving, I huffed and puffed, explaining that after a year and a half with my wheel, I still couldn't decide on a name, that inspiration wasn't coming to me, that I'd have to choose a name, and not be happy with it, and it'd stick oddly whenever I had to say it and, and, and it wasn't as if (breath) a name was just going to hit me -
And then a name hit me.
So, I'd like you all to say Hi to Daisy.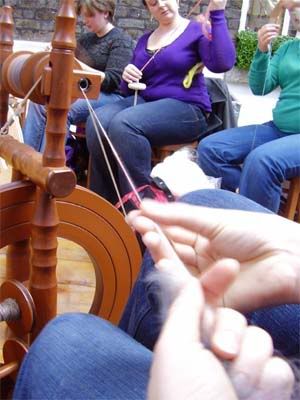 But, she still needs a surname, and that's where I rooted through the suggestions and have chosen Madrigal.
Daisy Madrigal, ladies and gentlemen!
She Knit Up That Ball
will be getting her prize the next time I see her... Congrats!