Today, I was lucky enough to be invited by my Mam to an
Irish Guide Dog's
Coffee Morning to raise funds for the Puppy Walker programme. We had the lovely Ozzy in tow. We had a hell of a time finding St. Gabriel's Community Centre, mostly because the address we'd been given was way off, but eventually, we made it, stepped in and, literally, were confronted with a (...and I can't emphasise this enough...) a wall of puppies! Wagging tails, wet noses, floppy ears, all sizes, all mixed breeds, all straining to say Hi to each other. The noise was tremendous, but it put an instant, and I suspect reasonably permament, smile on my face. My God, they looked so happy. Into the middle went Ozzy, barking away, sniffing every bit of fur he could get his nose at and licking every hand in range.
Really, you could tell he was the country puppy in the mix, a little dazzled by the sheer volume of "dog" around him!
He met his sister, Ojo, who was a fair bit smaller than he was. He's the one with the lively red bow on his collar, she's the one with Ozzy in her ear. They got on great.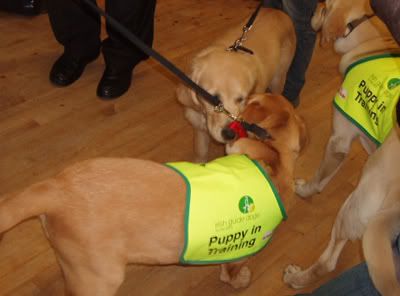 Here he is, modelling the latest in Guide Puppy fashion, with his little friend (who's name began with a T... "Tango" or something like that):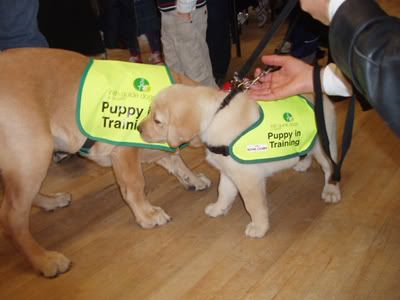 Then off he went, tangling himself up in countless other mirror-images.
Here he is, getting to know two other pups around his age, Tango in tow:
I'd have tried to get puppy names, but for the most part, the dogs were done with each other before the owners got to say Hi, so it was all a bit mad.
After fifteen minutes, he'd had enough, and was more than happy for me to kneel down between him and the puppy meleé in the centre of the room. So, the three of us crossed the road, and had lunch. Look how good he was while we ate our food.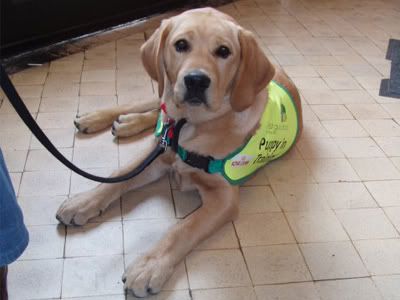 He really is going to make someone an amazing guide dog some day.
This
Puppy Walking
scheme is a great idea, giving all the pups involved a happy, family start in life and allowing the general public to help out in what would otherwise be a very specialist area. It's well worth
passing a few bob
on to if you have it to hand.