It seems there are some things in the world that fall into the category of "too much fun, so we have to make it a teeny bit frustrating". Chocolate adds weight, in sunny weather we have to cover up, Christmas is expensive... and crochet doesn't use universal stitch names.
I know, I know. It's the US v's UK thing again.
It is "color" or "colour"?
Should we drive on the right side of the road, or the left?
Is it a double crochet, or a single crochet stitch?
It's enough to drive anyone to chocolate at times!
So, I have compiled a quick guide, below for those of us who can't translate these things in our sleep. Save it, print it out (I've made it A6, so it'll fit easily inside most pattern books out there for quick reference)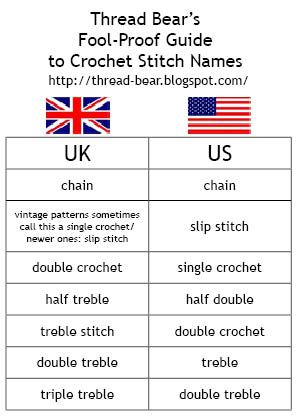 As for who's right? I have no idea. I have tried to get an answer, but no-one seems to know. As for me? I learnt to crochet from a library book that used UK terms, and after 15 years, I have started teaching using UK terms. Part of me thinks I refuse to us US terms in free patterns because I'm rooting for the underdog.
In a world of US-lead fibre revolutions, at the very cusp of which are books like Stitch N Bitch, The Happy Hooker, there are more and more people coming to crochet all over the world who are only going to be familiar with the US names. I guess it's just in my natuure to try and preserve what will likely be lost sooner or later, but still, when I teach someone who is new to the craft, using UK terms, but make them aware of US ones, I can't help but feel I'm holding that tide back a tiny bit.