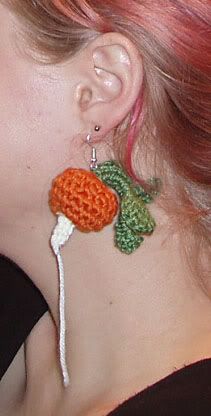 I woke up this morning, the warm breeze coming through my open bedroom window, and I thought "Ohh, Harry Potter is out soon, I wonder what I should wear to the screening" Now, I'm no big dresser-up for events; I have never gone to a Star Trek film dressed as a Vulcan, nor have I seen Star Wars dressed as Princess Leia... but... I would not draw the line at Luna Lovegood's awesome earring choices.
So that I'm not alone, I have made the pattern for these fun earrings free to download. My Pattern Download section is on the right. Just look for the little picture of a radish. : )
Please, let me know what you think, and enjoy!
I like to provide patterns for people to try out, and I truly get a kick out of seeing people's finished projects, but I also think it's important to give people the opportunity to say thankyou for the work that has gone into creating the pattern, if they so wish.
So, I have the pattern written out below, in UK stitch names, but if you'd prefer an easy-to-print pdf of the pattern, with both UK and US stitch names catered for, then please, click below, give whatever you feel is appropriate, let me know your email address, and I'll happily email the pdf on to you.
Thanks!
Luna Lovegood's Earrings:
This pattern is written with UK stitch names
With the new Harry Potter film out so soon, I thought it'd be a great chance to wear some distinctive earrings! These radish earrings are directly inspired by Luna Lovegood's spectacular fashion sense.
Wear them to your local cinema, and turn some heads.
Materials:
3.5 mm crochet hook,
a few metres white 4-ply yarn
10 metres red/orange 4-ply yarn
a few metres green 4-ply yarn
Darning needle
Your choice of earing fitting.
Tension:
petal = 2 1/2 inches from base to tip,
petal = 2 inches across at widest point
Abreviation Key:
ch chain
sl st slip stitch
tr treble crochet
dc2tog double crochet two together
st(s) stitch(es)
Finished Size:
Finished diameter approx 6 inches
The Root:
1. Using white yarn, ch 3, ss into first ch to close.
2. ch 1, dc 4 into loop, ss into 1st dc to close (4 sts)
3. ch1, dc into every dc, ss into 1st dc to close
4. ch1, *[2dc], dc* repeat twice, ss into 1st dc to close (6 sts)
5. ch1, *[2dc], dc* repeat three times, ss into 1st dc to close (9 sts)
The Radish:
6. Using Red yarn, ch1, [2dc] into every dc around (18 sts)
7. ch1, dc into every dc on round, ss into 1st dc to close.
8. ch1, *dc2, dc2tog* repeat 6 times, ss to 1st dc to close. (12 sts)
9. ch1, *dc1, dc2tog* repeat 6 times, ss to 1st dc to close. (6 sts)
10. At this point, stuff your radish with waste yarn for filling. I'd recommend using the same colour yarn as your radish, to avoid the filling being seen through the stitches.
11. ch1, [2dc] around, ss to 1st [2dc] to close. (3 sts) Cast off Red, and weave in end.
Leaves:
12. Cast on Green into one of the top 3 sts on radish. ch 9, dc into 2nd ch from hook.
Note: every leaf stitch hereafter is stitched around the chain, not into it.
13. dc1, tr 2, dtr3, tr2, dc 7, ss into top of radish.
Repeat leaf pattern twice more, into the sts left at the top of the radish.
14. Cast off Green and use this yarn to set your earring fitting into top of radish.
Note: I found wrapping the yarn tail once or twice around the base of all three leaves settle them nicely on top of the radish.