I have a serious problem.
I did a quick run-around the apartment today, picking up all the stray projects I have lying around. I counted 12 WIPs.
A half knitted sock; a half-ripped charityshop jumper; an old charity shop merino jumper to be made into a felted bag; a crochet sock experiment; a wire & lace-weight flower experiment; barrier tape crochet experiment; homespun, homedyed yarn waiting to be skeined; a cabling test; a half-made jumper; the second of a pair of arm-warmers; roving waiting patiently to be spun to be spun; and two lovely new skeins of Dublin Dye Company sock yarn to be socked at the earliest possible moment!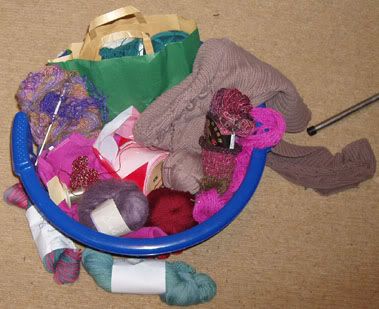 I think I have a bad case of non-finish-itis.
Can you beat me?
The best (read:funniest) list of WIPs, with a photo, will win a free copy of my next pattern, Rasta Kitty, a cool crochet hat, with lots of room for hair, and optional kitty ears. Really, it rocks.
Closing date for this competition will be one week from now, so get gathering, get listing and get emailing me at (mise_5 at hotmail dot com)!