A blanket takes a long time to make. Invariably it will end up encompassing a time in your life that will be remembered whenever you snuggle up in it.
So far, I have made a blanket a year, more or less, since I learnt to crochet. They rarely stay in my possession long after they're finished. I don't make blankets for specific people; they take too long to get through, but I like to imagine that each blanket finds its new owner itself.
So far,
"Diagnosed with Diabetes blanket 1998" is in my couin's hands, on the back of her couch.
"I've finished secondary school blanket 2001" - unintentionally in my uniform colours - has cozied up to my aunt,
"Underground Student Movement blanket 2004" went to a fired tutor in need of some support,
"I have a boyfriend blanket 2006" - unfinished 'cause I was dumped, is now on my bed,
"Horrible heartbreak 2007" found its home with my then friend, now boyfriend as a thank you for his support through a lot of madness.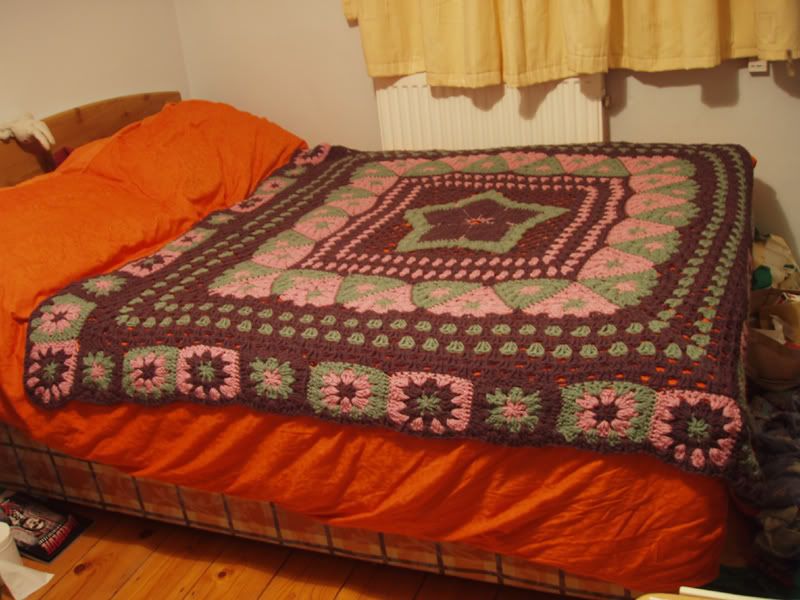 I have a boyfriend blanket 2006
Horrible heartbreak blanket 2007
Funnily enough, though, through all of the ups and downs in my life it appears sad times produce the more cheerful blankets, the happy times produce more sedate ones. Maybe they're my form of therapy.