The weekend has been busy so it's a good thing indeed that it was a long weekend over here in Ireland. Bank Holidays; is there any greater gift a government can give to its country?
The following have been taken off my to do list.
Macramé - make net to hang Ppiderplant from window hook.
Knitting - start into raspberry cable jumper for myself
Knitting - learn a new stitch (Irish Moss)
Spinning - finish up the last of the turquoise merino / silk blend roving to make into a Christmas present scarf.
Cookery - learn a new dish - Colcannon
Being a kick-ass girlfriend - make brownies for the guys in bf's work.
The aformentioned Spiderplant: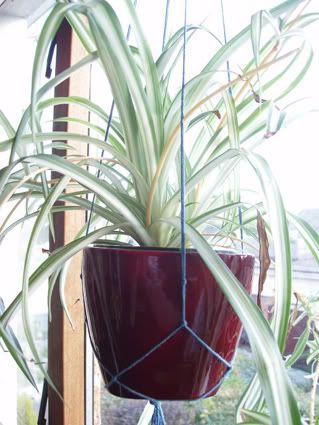 The roving in question:
The Colcannon was a success. The bf hates cabbage with a vengeance that seems unnatural at times, but he tried this Irish traditional meal and declared it to be quite tasty, indeed. Colcannon is more widespread towards the north of the country and it's something my family has never made. I found it in a cook book over the weekend and decided it was time to delve into the murky depths of traditional cooking. Plus I love the taste of cabbage, so it was win-win for me.
I improvised the recipe to reduce the number of pots used, but it's essentially the same.
1 lb curly kale/dark cabbage, well washed with stalks removed.
1 lb peeled potatoes (preferably a floury variety, they make better mash)
6 scallions (spring onions)
a large knob of butter,
milk.
1. Peel and chop potatoes, and prepare cabbage by shredding.
2. Boil potatoes in a pot of salted water, and boil the cabbage in another pot until both are tender. Drain both pots.
3. Add a good knob of butter to the potatoes, a dash of milk, and mash together well. Add salt and pepper to taste.
4. Strip and chop scallions into small discs. Add to potatoes.
5. Add cabbage to the potato, and mash again.
6. Leave to sit for a few minutes and serve with a well of butter in the middle.
It's great on its own, but also works well as a vegetable accompaniment to a main meal. Colcannon is usually made around this time of the year when cabbage is readily available and it's lovely and warming on these cold days.
Enjoy!